Rare Beatles Recording Sessions Hardcover
---
Details:

Brand new OOP hardcover of this rare highly sought book. THE BEATLES RECORDING SESSIONS The Official Story of the Abbey Road years 1962 - 1970 One of the most important documentaries on rock music ever published, this is EMI Records' official diary-format history of every Beatles recording session. "A definitive account of the Fab Four at work from 1962 to 1970." - Musician "With this wealth of detail, Mr Lewisohn vividly conveys a sense of the atmosphere at the sessions and shows how the band evolved during its brief but productive recording career." - New York Times "It's the next best thing to a new Beatles album." - Boston Globe "It is an absolute must for hardcore Beatles fans, surely the best book on the Fab Four in well over a decade." - Gainsville Sun. The Beatles: Recording Sessions is EMI Records' official diary-format history of every Beatles recording session, from the first in 1962, when the group was auditioned, to the last recordings in 1970, shortly before the Beatles split up. Introduced by a rare and exclusive interview with Paul McCartney. Researched from hundreds of unreleased Abbey Road archive tapes, thousands of previously unpublished studio documents, and interviews with scores of key recording personnel. More than 350 full-color and black-and-white photographs and illustrations, including rare photos by Linda McCartney and the first facsimile reproductions of Abbey Road recording sheets, tape boxes, album-sleeve roughs, memos, contracts, press releases, and much more. Author Mark Lewisohn has long been recognized as the leading authority on the Beatles, his books on the Fab Four include the definitive Complete Beatles Chronicle. Based in Hertfordshire, England, he also writes for a number of magazine publications.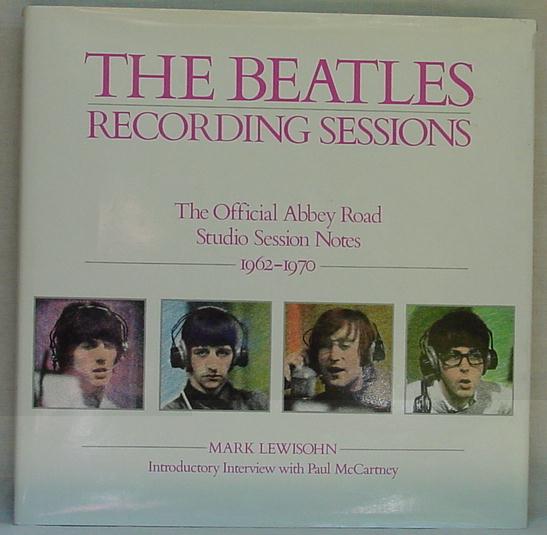 Purchase Price $60 US

---
Item Purchase Information:
Accepted Payment Methods: Personal Check, PayPal, Cashier's Check / Money Order, C.O.D.
Shipping Terms: Buyer pays. Will ship internationally.

To purchase a copy or for more information please email us.